Accommodations (4)
Comfort Inn Clifton Hill - Niagara Falls Hotel
4960 Clifton Hill
Niagara Falls, Ontario, Canada, L2G 3N4
General Telephone: 1-800-263-2557
---
Diplomat Inn
5983 Stanley Avenue
Niagara Falls, Ontario, Canada, L2G 3Y8
General Telephone: 1-888-587-8412
---
La Toscana di Carlotta at Burns House
255 King Street
Niagara on the lake, Ontario, Canada, L0S 1J0
General Telephone: 1-866-577-2155
---
Oakes Hotel Overlooking the Falls
6546 Fallsview Blvd
Niagara Falls, Ontario, Canada, L2G 3W2
General Telephone: 905-356-4514
---


Seneca Casinos Spring Lineup
SENECA CASINOS SPRINGS AHEAD WITH ENTERTAINMENT FOR MARCH AND...
More >>>
More Stories:
Seneca Casinos Spring...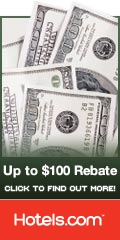 GALLIM DANCE - I CAN SEE MYSELF IN YOUR PUPIL
Jan 21, 2012 -
"Visceral excitement, fervor and undeviating commitment. This is one to see." (The New York Times)
More >>>
CHILD'S PLAY: A CENTURY OF TOYS 1850S - 1950S
Jan 21, 2012 - Apr 01, 2012
This exhibit examines 100 years of toys, games and children's pastimes. Visitors to this travelling exhibit from the Haldimand Museum can also relive moments of childhood fun with a floor-sized game of Snakes and Ladders or a toy box filled with vin
More >>>
AMERICA AT THE CENTRE FOR THE ARTS
Jan 23, 2013 -
The legendary folk-rock band behind the phenomenally successful 1970s hits "A Horse with No Name," "Ventura Highway," "Sister Golden Hair" and more.
More >>>