Accommodations (4)
Comfort Inn Clifton Hill - Niagara Falls Hotel
4960 Clifton Hill
Niagara Falls, Ontario, Canada, L2G 3N4
General Telephone: 1-800-263-2557
---
Diplomat Inn
5983 Stanley Avenue
Niagara Falls, Ontario, Canada, L2G 3Y8
General Telephone: 1-888-587-8412
---
La Toscana di Carlotta at Burns House
255 King Street
Niagara on the lake, Ontario, Canada, L0S 1J0
General Telephone: 1-866-577-2155
---
Oakes Hotel Overlooking the Falls
6546 Fallsview Blvd
Niagara Falls, Ontario, Canada, L2G 3W2
General Telephone: 905-356-4514
---


Seneca Casinos Spring Lineup
SENECA CASINOS SPRINGS AHEAD WITH ENTERTAINMENT FOR MARCH AND...
More >>>
More Stories:
Seneca Casinos Spring...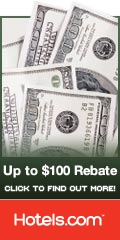 CLASSIC ALBUMS LIVE: THE DOORS - L.A. WOMAN
Apr 11, 2012 -
The epic and final album ever recorded by Jim Morrison and The Doors recreated live and followed by more classic favourites.
More >>>
INDIA JAZZ SUITES
Apr 12, 2012 -
Traditional Kathak dancer Pandit Chitresh Das and New York-based tap dancer Jason Samuels Smith are an unlikely pair, but their virtusic footwork and collaborative improvisation to live music is a spectacle not to miss.
More >>>
BIG MOVE CANCER RIDE INFO SESSION
Apr 12, 2012 - Apr 12, 2012
The 4th Annual Big Move Cancer Ride will be taking place Sunday, September 9th, 2012 at Club Roma, St. Catharines in support of the Walker Family Cancer Centre.
More >>>
JUST FOR LAUGHS ROADSHOW
Apr 17, 2013 -
The Just for Laughs Roadshow tour brings four hilarious comedians from the prestigious comedy festival to our stage.
More >>>
JAKE SHIMABUKURO AT THE CENTRE FOR THE ARTS
Apr 18, 2013 -
This ukulele master and YouTube sensation has taken the four-string, two-octave instrument to places no one has gone before, performing a wide range of awesome music with stunning virtuosity, deep musicality and a natural entertainer's flair.
More >>>
NATALIE MACMASTER AT THE CENTRE FOR THE ARTS
Apr 20, 2013 -
A legend for her mastery of Cape Breton highlands fiddle music and high-powered performances, Natalie MacMaster is a ferocious fiddler.
More >>>