Accommodations (4)
Comfort Inn Clifton Hill - Niagara Falls Hotel
4960 Clifton Hill
Niagara Falls, Ontario, Canada, L2G 3N4
General Telephone: 1-800-263-2557
---
Diplomat Inn
5983 Stanley Avenue
Niagara Falls, Ontario, Canada, L2G 3Y8
General Telephone: 1-888-587-8412
---
La Toscana di Carlotta at Burns House
255 King Street
Niagara on the lake, Ontario, Canada, L0S 1J0
General Telephone: 1-866-577-2155
---
Oakes Hotel Overlooking the Falls
6546 Fallsview Blvd
Niagara Falls, Ontario, Canada, L2G 3W2
General Telephone: 905-356-4514
---


Seneca Casinos Spring Lineup
SENECA CASINOS SPRINGS AHEAD WITH ENTERTAINMENT FOR MARCH AND...
More >>>
More Stories:
Seneca Casinos Spring...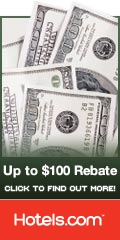 SPIN FOR THE GENERAL
May 27, 2012 - May 27, 2012
Join us for the 2012 "Spin for the General" on Saturday, May 27th, 2012 taking place at Spin-Doctor in the Pendale Plaza, across from the Pen Centre.
More >>>
NIAGARA-ON-THE-LAKE SHAW GARDEN TOUR
Jun 08, 2013 - Jun 08, 2013
One of the best garden tours in Ontario. Don't miss it !! Walk from garden to garden in Old Town Niagara-on-the-Lake and enjoy beautiful gardens and lovely historic homes too.
More >>>